Short Term & Long Term Storage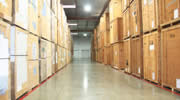 Guardian Cargo Logistics is able to provide both long and short term storage solutions for international moves. Our storage depots in various cities in the United States are clean and secure, heated and fire and moisture proof. If you need long term storage solutions for your move overseas, Guardian Cargo Logistics will be able to work with you on a long term storage plan that will be custom tailored to meet your needs. You can have the comfort of knowing your valuables are safe and sound in one of our storage depots while you are taking care of business or your family on the other side of the globe.
As worldwide movers, we are able to provide you with the most attractive storage rates for your international shipment. Commercial and household short and long term storage are available in our spacious storage depots. Customers can also use our long term storage plan while checking various business possibilities in various locations in the world. Guardian Cargo Logistics can ship your goods from storage to any destination in the world. Guardian Cargo Logistics can also assist you with full packing and preparing your shipment for storage and international shipping. We will pack for you, place your shipment in storage and then wait for you to tell us where to ship it. No matter where your new home or business is, Guardian Cargo Logistics can get you there with the highest level of comfort the international moving industry has to offer.