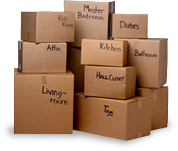 Moving to Hawaii or moving from Hawaii can be just as easy as moving within the contiguous US, it all depends on which  Relocation Service you are using. At Guardian Cargo Logistics we are able to accompany you throughout the process of  Moving to or from Hawaii and transform every aspect of it into pleasant, stress free experience. Our expert relocation consulates will be able to advise you regarding all aspects of your move to or from Hawaii.
When you Move to Hawaii we will assist you with decisions regarding inventory and the choice of what items to take with you to the islands, and necessary arrangements in the islands. We have the necessary knowledge and experience to handle both large and small shipments going to the islands or from the islands to the mainland and offer free, no obligation binding estimates to any destination in Hawaii or contiguous US. We also offer both long and short-term storage services for any size of shipment on both mainland and the islands. Guardian Cargo Logistics has extensive experience in corporate relocation to and from Hawaii. Contact us for a custom tailored relocation-outsourcing program that will provide your transferees with all the moving services they need.Trust us to be your next Hawai Mover

Here are some of the services we offer for moving to Hawaii:
Free, no obligation binding estimates
Full or partial packing services
Full or partial unpacking services
Crating of fine art, marble and antiques
Furniture and antique restoration, as well as furniture and sofa disassemble
Long and short term Storage on both mainland and the islands
Insurance
International car shipping
Delivery services in Hawaii and mainland
Elite luxury all inclusive services
Small moves

CALL TOLL FREE 866-222-3939

If you're relocating to the islands and need to find a place to live, search all homes for sale in Hawaii and find your perfect piece of paradise. Also you may want to check out this Hawaii travel guide They have a lot of fun things to do and information on Hawaii culture.
Moving companies to Hawaii based their quotes on your item type, kind of handling required by your items, route, and destination of your shipment, and the bulk of your goods. When you request for an estimate, our moving company to Hawaii - moving to Hawaii customer service will send a professional representative to conduct a visual survey of the goods, equipment, furniture, and other personal effects you need to move. The online form that you fill in to obtain an estimate is obviously just an estimate to give you an idea of the cost involved. Our company can give you the actual cost after the visit. The reason we would encourage you to call and let us conduct our free cost estimate visit is that our professional representative can categorize, list, and handle the cost of the packing for your convenience.
Our expert team of Hawaii movers needs to categorize the items for correct handling and packing instructions as well as the packing materials pricing. It is imperative that we charge you for the minimum weight charge if your items fall below our minimum weight. Our moving company to Hawaii – moving to Hawaii representative will make sure you are aware of the minimum cost involved with your shipment. We always can reserve space for you depending on the kind of move, transport, and storage you are looking for your items. However, if you think you can save moving expenses by packing your own things and if you know the correct packing materials and technique for each of your categorized items then we encourage you to complete the packing task.
Our moving company to Hawaii – moving to Hawaii billing department will show you a list or an outline of the charges you are going to incur for the transfer. We do not practice hidden charges but we do forward and charge the unexpected charges your destination may charge us. Unexpected charges unknown to us at the time we create our agreement are billable to your end. In cases, we receive this kind of surprises our billing department will inform you immediately of the additional unexpected destination charges. A good example of unexpected cost would be labor, equipment, and handling charges as such as long carry distance or long flight of stairs. Long carry distance refers to the distance involved in carrying your items from the delivery truck to your destination, residence, or office.
In Guardian Cargo Logistics we specialize in moves from Arizona to Hawaii. With a brance right here in Denver we can help you move from the early planning stages until we deliver your goods in Hawaii. As and international moving company and shipping company specializing in both residential and commercial relocation's we will be able to guide you how to prepare here in Arizona and what to expect when you meet us in Hawaii.
It is easy as 1,2,3 to receive a moving price to Hawaii.
Stages to get a moving price from Arizona to Hawaii
Tell us about the location in Arizona you are moving from?
Where in Hawaii you are moving to?
what are the items you would like to ship to Hawaii?
Would you be interested in getting an exclusive shipping to Hawaii Container?
It all starts in the form to your right. send us the information and receive a budgeted price today.
Let our moving to Hawaii – Hawaii movers pack and unpack for you. Our expert moving team packs for your items with great care and mark your boxes for easy monitoring. We paste a packing list for each box so you will know the things you kept inside to each of the boxes. This will make things easy for you to identify which one to unpack first. We use quality-packing materials to make sure your goods are safe and secure during travel. Our international moving companyhas established partner network across the island of Hawaii and is able to make any arrangement you require when moving to Hawaii. Our expert Hawaii movers are just a click of the mouse away from you. Call or email us anytime of your shipping needs.
The members of our moving team are experienced packers who definitely know which packing material is appropriate for each item. All members of our team possess a mover's license and have their own insurance. Each member undergoes packing and packaging training upon hiring, attends seminars for update regarding packing and packaging techniques, and equipped with the guidelines for packing and packaging of certain items. You do not need to worry about fragile items or other expensive furniture collection because our moving to Hawaii – Hawaii movers know what to label and how to pack your items. Choose for a moving company that specializes in long distance as well as local moves anywhere in Hawaii. Nobody can answer your needs better than those who do moving routine work across the island of Hawaii like us.
We have the team and the ability to make your moving to Hawaii fun and convenient. We have several trucks that can answer your shipping requirements. Give us a list of your items or invite our team to make a list of your items for you. Our professional team would make sure you know the cost of the packing materials, freight, and handling involved in shipping your items. We promise your goods arrive safely to their destination. It is never easy to travel having preoccupied thoughts about your personal goods during travel not to mention the international shipping paperwork involved.
Call our expert Hawaii movers and let us help you make your travel fun and easy for you. Our company have unmatched commitment to service quality. Our moving to Hawaii – Hawaii movers experts reflect shipping and packing knowledge through our personalized service.
Guardian Cargo Logistics offers shipping services from California to Hawaii. Our services includes storage which is available when you are moving to Hawaii. We can handle full or partial Hawaii container loads. because we have high volumes we are able to transfer the saving and create and affordable Hawaii moving services.
When you are moving to Hawaii treat your move as any international move. Hawaii is a state within the USA but the planning and logistics of your move is comparable to any international moving service. Let us provide you with you Hawaii Moving Quote – the quote is FREE and with no obligation.
Reason to use us as your shipping to Hawaii from California company
Based in California next to the shipping port.
Based on the other end in Hawaii.
High volumes creates savings.
experienced movers.
We have the know how when it comes to Hawaii moving services
As always you get airlines miles.
Choosing a Hawaii to California Moving Company and Hawaii to California Shipping Company
Moving from Hawaii to California is done best by Guardian Cargo Logistics. As a company based in both Hawaii and California your move is safe and we are there in both ends to make sure your household shipping from Hawaii to California will be easy and stress free
Moving to the mainland with Guardian an Hawaii moving company will be efficient, affordable and done with care.
When moving to California from Hawaii, you need to look for a California and Hawaii moving company that can meet your needs. You will be impressed with our knowledgeable staff and the easiness all details of your move are handled
Choosing an Hawaii to California Moving and Shipping Company
- Choose a licensed mover.
- Choose a company branched both in Hawaii and California, It makes the move very easy.
- Get a company with storage service, you will need it.
- Get a company that agrees with full containers to California or partial loads.
- Choose the actual company that will handle your move not a broker or someone that will assign your move to a different company
Moving from Hawaii can be just as easy as moving a cross the street, it all depends on which Hawai Mover you are using. At Guardian Cargo Logistics we are able to accompany you throughout the process of moving from Hawaii to the Mainland and make it into pleasant, stress free experience. Our expert moving consulates will be able to help in all aspects of your move from Hawaii. Moving to America with Guardian is easy and stress free.
Hawaii has always provided logistical challenges within the moving industry. Until now, no one company could provide the level of service necessary to handle the complete needs of clients shipping to and from Hawaii. Guardian has focused solely on total island transportation to and from the Mainland. Now, we are putting local island transit as top priority. We will bring the same values to our local island market as we do our long distant moves.
Guardian has long been the gold standard for on/off island moves, and we plan to set that same standard moving into any new areas of growth. Moving doesn't have to be complicated and one sided. These are your life possessions, Guardian understands that's. We handle your goods as precious cargo, not meaningless freight. Your move will be done with precision, from point A to point B. Our local movers know the islands, so any challenges are quickly solved. When you move with us, you will have a personal account executive with you at every step! We are only a call away. When you move with Guardian you can feel confident that your cargo is in trusted hands. We are so well trusted that we are the official movers of Hawaiian Airlines! Wherever your moving locally or anywhere inner island we will provide the Guardian Standard.
time does not start until we start working

free moving blankets

professional movers not day laborers

affordable hourly rates

white glove service available
Choosing a Honolulu Moving Company and Honolulu Shipping Company
For most people, living in Honolulu is a dream. Travelers who have visited Honolulu have at one point in their lives thought of living in this island. There is actually nothing surprising about this because Honolulu is one of the most breathtaking places in the world. If you have visited even one of the Honolulu an islands like Big Island, Oahu, Kauai, Maui, Molokai or Lanai, you'll find that Honolulu is a paradise. Good thing you can make this dream a reality.
Moving from Honolulu to the mainland with Guardian an Hawaii moving company can be easy and stress free, we can service your move from A to Z.
Why move to Honolulu
Imagine yourself being somewhere where there are many sunny days each year. You'd be sun kissed for most days of your life when you move to Honolulu. The culture of this state is also very unique which residents are very proud of. Because of the unique qualities of Honolulu, more and more people want to move here to start a new life.
Tips in moving to Honolulu
When moving to Honolulu, you have to look for a moving company that can meet your needs. You'll definitely have a great deal if you select a Honolulu moving company that offers low cost reliable services. There are Honolulu moving companies that offer affordable rates to customers. However other than affordability, you have to choose on a company which you can rely on for your goal of having a stress-free move.
Choosing a shipping or moving company
With so many companies offering moving services, it may take you more time to find the right one for you. Make sure that you choose a Honolulu moving company which is a member of BBB so that it will be easier for you to get information. Before hiring any moving company for your move to Honolulu, check its customer service record and business history first with the BBB or the Better Business Bureau. Remember that even if you are being offered with a good deal, you should still not ignore the importance of customer service. With the help of the BBB, you can make the right decision when choosing a company to help you move to Honolulu
Move in or anywhere in Hawaii in an easy, fast, and convenient way using moving companies' services. Helping you transfer your furniture, appliances, equipments, clothes, baggage, and other personal things is everything that we do. Never fear for lost of any of your items because we, at Hawaii Movers maintain our sense of responsibility and accountability to sustain highest standard of business ethics. Our company brings you the most dedicated, trust worthy moving team that will make you experience the smoothest, fastest, and free-from-worries move to Hawaii as possible.
You never get to move a single wrinkle in your forehead if you contract your moving plan to moving services. Our moving company assures you that everything will reach you as you shipped it because our services are 100% guaranteed no lost, no damages, and absolutely no delay. We deliver your needed equipments and personal belongings as we commit. Our moving to Hawaii companies' motto is to keep you happy and satisfied with on time delivery. Travel as lightly as you can and let our moving company handle the bulk of your things safe and secure.
Relocating to Hawaii is easy. Let our Hawaii Moving Company send you a quote. The prices of our services are appropriate to the excellent service that we provide. Relocating is expensive and we perfectly understand your need for cheaper services. List anything you plan to ship and let us take care of your things while giving you the most affordable, high quality moving to Hawaii services you can have.
You do not need to handle any documentation or legalities in its official context when you transfer to Hawaii. Our moving services can handle the paperwork for you. There are long distance Hawaii moving services that can carry this task for you smoothly but our moving services team will conveniently take your transportation services as well as the packing cared of for you. We, as movers have established network of long distance movers trained and capable to give you a stress free move.
Make the most of your travel and relocation without having to attend to your truckload of things. Take your travel easy and learn to enjoy the view. Travel could be more enjoyable if you just absorb the beauty of your new surrounding and relax. That is the major role of Hawaii movers. We make sure that you are happy, contented, and worry free without a finger laid down on any single paperwork.
Are you moving to Hawaii? Hawaii is a nice place to move in but it might help you to travel lightly and without worries if you contract your equipment and furniture transfer to movers. Hawaii moving company specializes and facilitates these types of transfers safely and securely. There are many Hawaii movers in the directory that you can find but you need to know if they can handle long distance transfers. This professional, friendly, experienced, and courteous relocation team uses moving trucks with fully equipped packing supplies to serve you. Packaging is crucial at every moving teams operation. It could preserve the life of your equipments and furniture as well as protect them from incurring damage during the transfer.
You may ask for some tips or advises from our Hawaii moving company especially on the mode of transport use, details of the relocation, the approximate number of staff in comprising our moving team, and the actual relocation cost involved. Relocation's definitely require preparation, planning, and understanding of the process especially the legal requirements. Each move requires unique needs and services specifically handling of equipments. You need to understand and assess properly the requirements and the process before you start contracting us as your Hawaii moving company.
You do not want to incur last minute surprises while you are on the go and on the road. A moving checklist is ideal and easy to create. The checklist will help you group your things into different categories to facilitate decision and selection of how your goods be packed. The moving checklist will also contain the quotes so you will be able to determine your budget for the relocation. It would be wise to know if you are just going to sell your items and buy another one in the area to which you are relocating. However, one understands that equipments or some furniture especially the antique ones are irreplaceable. The best is to check for the lowest cost of transfer with the maximum number of pieces and type of items you may move.
 Moving To Hawaii
Find movers that are near your place or near the place in which you are going to move. The ideal plan is to compare at least five to six Hawaii moving company including a list of their services to be able to decide which type of service best suits your requirements. Saving money doing the packing, paperwork, and the transfer yourself is a whole lot more stressful than simply paying movers to move you things while you experience to travel conveniently, satisfied, and happy.
Moving to Hawaii explain
Moving to Hawaii or moving from Hawaii is the same as shipping to Hawaii or shipping from Hawaii the service provided by guardian cargo logistics is a reliable moving to Hawaii service or shipping to Hawaii service and guardian also provide moving from Hawaii service and shipping from Hawaii service